Experience the Art of Hair with RestorInk​
Add the Look of Hair with Scalp Micropigmentation (SMP)
Exclusive to HairClub, our innovative RestorInk permanent scalp micropigmentation is a safe, quick treatment that adds the look of hair to fill out hairlines and shaved styles, add to thinning areas, or cover scars.
Gives Real Hair Appearance
Multiple shades of pigment across thousands of tiny impressions on the skin are applied to the scalp with micro-fine needles.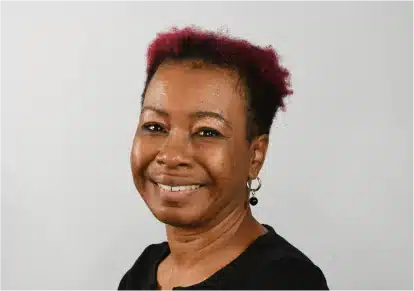 Uses a Proprietary Formula
At a tiny 60 microns wide, we can get more coverage per square millimeter compared to other
pigment formulas.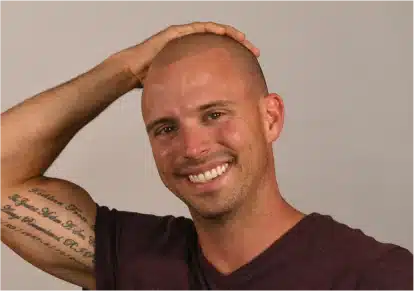 Get Low Maintenance Results
Most of our clients see full results in just two sessions. Touch-ups are recommended every 3-6 years to keep your hair looking fresh.
Wondering what to expect? From your initial consultation to personalized treatment and ongoing care, your Hair Loss Specialist will guide you through the step-by-step process.
All along the way, you are in expert hands.
Here's a quick overview.
Visit us for a complimentary, comprehensive hair assessment to determine if RestorInk is right for you, and we'll tailor treatment for your needs.
Ready for Scalp Micropigmentation
We apply a combination of keratin and pigments virtually painlessly to the dermal level of your scalp to match the natural look of hair stubble from any distance. 
After scalp micropigmentation treatment, most people will have little to no aftereffects and can go to work, go to lunch, or go about their day's business as usual.
Just avoid washing your scalp, getting it wet, or touching it too much for four to five days. That probably means holding off on exercise and sweating, too.  
Come see a Hair Loss Specialist to find out which of our cutting-edge solutions is right for you.
See Some of Our RestorInk Results
There are 120+ HairClub Centers in the US, Canada, and Puerto Rico. Your free initial consultation and subsequent appointments will take place at the HairClub location of your choice. Simply set up a time and day to visit one of our brick and mortar HairClub Centers.
You'll receive a comprehensive Hair Health Analysis that includes a visual examination of your scalp and hair with TrichoView®, our state-of-the-art imaging tool. Our Hair Loss Specialists will determine your stage and type of hair loss. Then, together, you can choose the best solutions that meet your lifestyle and budget. Your consultation is a valuable part of your journey towards getting the hair you want. It lasts approximately 45 min to one hour. Learn more.
RestorInk is an innovative, non-surgical restoration technique that replicates the appearance of thicker, fuller hair. Our specially trained practitioners apply a proprietary pigment formula to the scalp with micro-fine needles. RestorInk is like a tattoo but with different needles that leave lighter impressions on the scalp. It's an affordable solution that can also enhance existing hair restoration and give the impression of having more hair at the hairline.
Get Our FREE Hair Loss Solution Guide
We can email or mail you our guide with more info on our treatment options.