Alopecia and Other Causes of Hair Loss
Millions of people deal with hair loss every day. You are not alone. The good news is understanding the causes of hair loss, from alopecia to harsh styling practices, is the first step toward effective treatment. We have the answers to help you make informed decisions about your hair health.
Get to Know the Hair Growth Cycle
Everyone sheds hair daily. That's perfectly natural. Our hair growth cycle occurs in four ongoing phases: growing, transitioning, resting, and shedding. Noticeable hair loss occurs when that cycle is disrupted by a cause or a condition that can lead to overall thinning, patchiness, or a receding hairline.
Why is My Hair Falling Out?​
Men, women, and children all lose hair in different ways and for different reasons. Dive deeper into gender and age-related causes and what you can do about them.
Common Causes of Hair Loss
While a majority of hair loss is caused by genetics, many other factors could be at play. Here are a few common culprits that cause hair loss or can make it worse.
What you eat is important. A deficiency in specific vitamins and/or minerals could contribute to hair loss. Some key nutrients for your hair include B vitamins (particularly Biotin), vitamin D, iron, zinc, protein, and essential fatty acids.
Fluctuating hormone levels in women may cause or contribute to hair thinning or loss. These changes can often occur postpartum or be attributed to perimenopause, menopause, polycystic ovary syndrome.
Causes of hair loss can often be traced back to prescription drugs or medical treatments, though determining the exact one can be hard to identify. Consult with your doctor if you think your medications might be to blame.
While everyday stress doesn't usually impact your hair, Telogen Effluvium, Trichotillomania, and Alopecia Areata are three types of hair loss associated with high stress levels. Managing stress can help hair come back.  
Frequent use of harsh styling practices can cause breakage and make hair fall out. Some of the most damaging include wearing tight hairstyles for extended periods, chemical treatments, and incorrect use of hot styling tools.
Men and women's hair loss can both be strongly influenced by genetics. Known as androgenetic alopecia, it can be inherited from either parent. Understanding your family history can help you take the necessary action early.
Certain illnesses like thyroid disease, autoimmune diseases, or severe infections can disrupt the hair growth cycle. Similarly, treatments like chemotherapy can also result in hair loss. See your doctor if you think there is an underlying issue.
The information provided in this page is general in nature and widely available. All content is provided for informational purposes. The exact cause of hair loss can only be determined by a medical professional.
Understand Conditions that Cause Hair Loss
Certain medical conditions may be to blame when it comes to hair loss. We recommend talking to your doctor if you suspect you're dealing with one or more of the conditions listed here.
Anagen effluvium is the sudden loss of hair during the growing (anagen) phase. This condition may be caused by exposure to chemicals or toxins such as those found in chemotherapy or radiation for cancer treatment. It is generally reversible, and hair typically regrows within 1-3 months, but some hair loss can be permanent.
Telogen effluvium occurs when hair follicles are prematurely pushed into the resting (telogen) phase of hair growth. This condition is usually due to an acute external factor such as physical trauma, surgery, major illness, or other intense stressors on the body. It typically appears as diffuse thinning across all areas of the scalp and, in many cases, is temporary and reversible.
The information provided in this page is general in nature and widely available. All content is provided for informational purposes. The exact cause of hair loss can only be determined by a medical professional.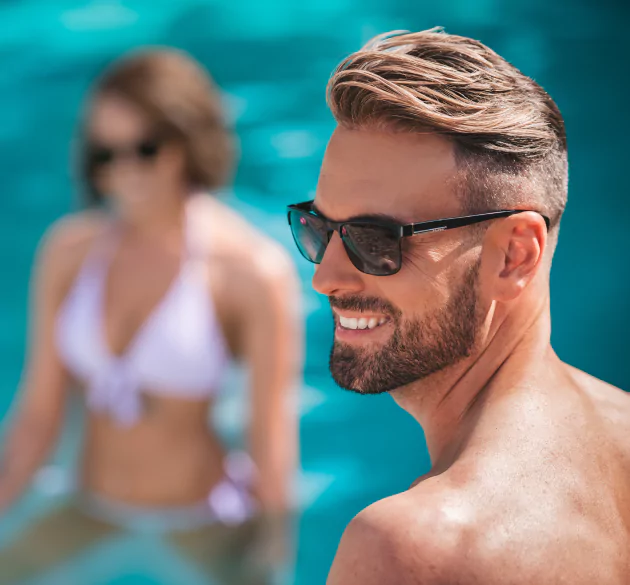 Take Our Hair Loss Quiz and See What's Possible for You
Answer a few questions to get a quick assessment and set yourself up for a discussion with our Hair Loss Specialists.
When did you first notice your hair loss?
Get Our FREE Hair Loss Solution Guide
We can email or mail you our guide with more info on our treatment options.