Laser Hair Therapy Proven to Regrow Hair
Regrow Hair from the Comfort of Your Home
Convenient, at-home, low-level laser light therapy (LLLT) helps regrow hair—and confidence. Our medical-grade laser devices are proven effective by over 90% of participants when used as directed‡.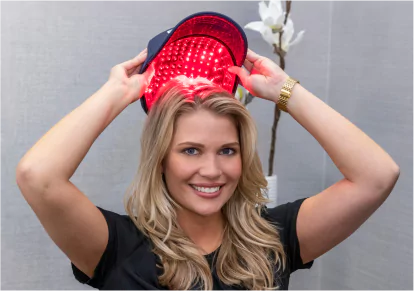 Laser Hair Therapy increases microcirculation which brings the good stuff like oxygen and nutrients to your hair follicles to encourage growth.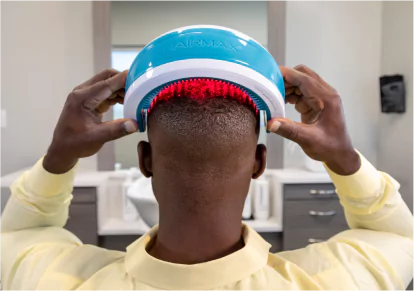 Low-level laser light helps flood follicles with energy and stimulates cellular activity helping each strand of hair stand tall and strong and less likely to fall out.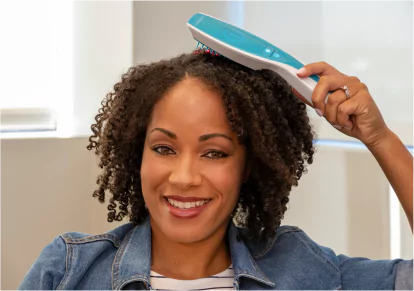 Just as exercise is healthy for your body, Laser Hair Therapy is healthy for your hair helping to make it stronger, thicker, and more robust.


How Laser Hair Therapy Works
Wondering what to expect? From your initial consultation to personalized treatment and ongoing care, your Hair Loss Specialist will guide you through the step-by-step process.
All along the way, you are in expert hands.
Here's a quick overview.
Visit us for a complimentary, comprehensive hair assessment to determine if Laser Hair Therapy is right for you, and we'll tailor treatment for your needs.
We have a few FDA-cleared laser devices to choose from to help you regrow hair. Your Hair Loss Specialist will help you pick the best one for you to use.
You can use it at home on your schedule while watching TV or as part of your care regimen. Laser therapy is easy to incorporate into your weekly routine.
Come see a Hair Loss Specialist to find out which of our cutting-edge solutions is right for you.
Get Our FREE Hair Loss Solution Guide
We can email or mail you our guide with more info on our treatment options.